READY TO BECOME GREAT AT

PUBLIC SPEAKING?
Bonn International Toastmasters – Meet our members!
Learn from our members what makes Toastmasters so great. We started a series of interviews with members of our clubs to talk about their personal views and experiences.
During the upcoming months you can expect brief Q+A statements as well as video interviews on our website and on our social media channels.
Here is our first interview – enjoy!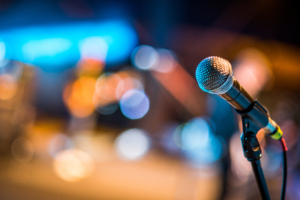 Welcome to Bonn International Toastmasters!
If you're like most people, you don't really learn public speaking in school or later at work in a way so you feel actually comfortable 'on stage'. Perhaps you had a few opportunities to present your work, maybe you even read a book or took a weekend course.
But still – only when we practice on a regular basis, we actually start to lose our 'stage fright', become comfortable in speaking to a larger audience and then even begin to love it!  
Being able to articulate yourself, present your arguments and speak up in front of other people is a 'super-power' – not only for your career but more importantly to contribute and share your most valuable asset – your creativity!
Because, no matter who you are…
Sometimes with very little time to prepare. You may have to give a presentation, lead your team through a challenge or pitch your plans to colleagues. And sometimes in life you might be invited to give a speech at your best friend's wedding!
For many members who join Bonn International Toastmasters, the idea of speaking to a crowd seems daunting at first. Since being founded in 1924, the Toastmasters organisation has helped over 4 million people to go from feeling nervous to being confident speaking in front of an audience, plus learning things like…
How could I structure my speech more purposefully?

How might I engage, inspire, and entertain my audience?

How can I use my gestures and movements to draw attention to what matters most?
A friendly place to practise public speaking
As the only English-speaking Toastmasters club in the area, Bonn International Toastmasters naturally attracts a diverse and indeed international group of members. 
Hence, you will meet a lot of new people – from native Germans who are improving their English speaking and presentation skills, to students and expats from all over the world. We meet every week to give speeches and provide positive feedback. In addition, our most experienced speakers are happy to mentor you individually.
Toastmasters' proven method for teaching public speaking is based on a simple principle: practise, practise, practise. And because the weekly meetings offer a relaxed, supportive, and fun place to do so, you will be surprised how quickly you'll see your ability to communicate effectively improving!
To get a sense of what an evening at Bonn International Toastmasters is like, visit us and join a session as a guest. Club evenings are held every Thursday from 19:00 until approx. 21:15.  It's completely free of charge for guests and we have new visitors almost every time. We are looking forward seeing you!
Next in-person meeting:
December 2nd: Eutopia, Adenauerallee 7
From 9 December onwards, all meetings will be held online in Zoom until further notice.
You are welcome to join us every Thursday @ 19:00h as a guest
---